I Help You Increase Your Profit By Perfecting Your Presentation
As advisor: Joe has excellent business skills and working with him will really show you how to uncover opportunities in key areas of your business"
As a speaker: Joe Dalton is one of the most naturally charismatic motivational speaker,  His dynamic personality and highly energy never tires to transform and captivated his audience. There is always a way to achieve amazing results for your Business.
He offer's a customised message and outstanding performance.
Give your audience more than inspiration
Joe Dalton helps business owners and entrepreneurs transform their approach to life and business in such a unique and powerful way. He empowers leaders and entrepreneurs to rise above the confusion and uncertainty, so they may achieve their true potential in their unique way. His career spans over 28 years and is very privileged to have worked with many dedicated and talented people across the globe. 
Joe has extensive business experience and knowledge, both in Ireland and abroad, with a proven record of accomplishment in achieving year on year company growth and regularly exceeding defined targets. His strength lies in successfully managing and motivating teams to achieve business growth. Over the years he has received awards for excellence in sales and marketing. Joe has developed a powerful and compelling system that will allow you to be the person you want to become.  
Joe is the founder of the Conscious Business Academy, Chairman of Dublin South FM. He is also a Communication Director of Global Goodwill Ambassadors (GGA) and a TEDx speaker.
"A 20-year journey that started out of curiosity has lead me to try and live a life based on the following values. I will keep on being curiosity on this wonderful journey we call life"
Improve your outlook on life and business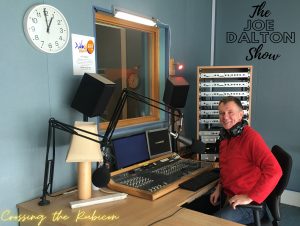 Joe Dalton covers a wide range of topics in his show. From business leadership and management, self-development, spirituality, health, artificial intelligence, consciousness, the human mind and humour. This show was launched in January 2017. Dublin South 93.9 FM (a CRAOL Ireland 2019 Achievement Award recipient)
Broadcasting into 90,000 homes in Dublin and listed in over 100 countries around the world.
The show has it's podcast listenership in the top 30 in Ireland and reached into the top 100 in the USA  
What can happen In one day, could change your life forever
don't give up with out trying